This past week I was given the opportunity to tour the Mothers' Milk Bank located in the Presbyterian St. Luke's Hospital in Denver in an effort to get the word out about human milk banking.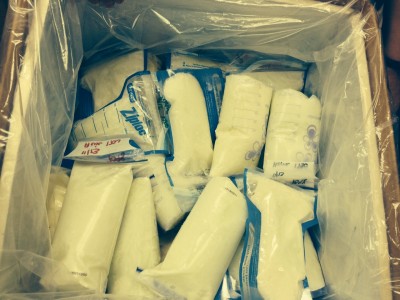 This is something that I was interested in donating to in the earlier stages of breastfeeding Aiden and if I'm being honest, I never really followed through with until they reached out to local bloggers. I figured now was a great time to learn more how their process works.
Milk banks are always in need of donors and recipients. The Mothers' Milk Bank makes it extremely easy on both parties to get their part done in the process.
Donors
If you are breastfeeding with a healthy supply and have extra milk, please consider donating. It really is an amazing cause with incredible outcomes. Just think… a newborn only needs 1 ounce of milk. Your milk can help start a lot of babies out on the right foot.
Donors go through a screening process to make sure they are a good fit first. Women that are in good health, nonsmokers and on minimal medication make good donors. Once the screening is complete, you also have to get a blood test at no cost to you.
Once you have passed these simple steps, the milk bank provides you with containers for your milk and makes arrangements to pick it up from you. You don't even have to leave your house!
What Happens To Your Milk
Once the milk bank receives your milk, it is stored in large freezers before it is pooled together into large flasks, then poured into sanitized glass bottles.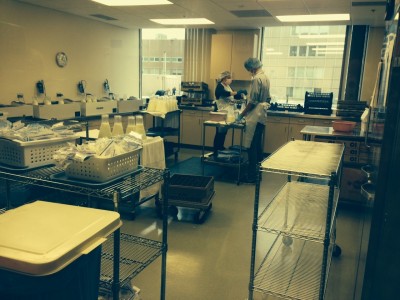 The bottles are pasteurized for 30 minutes to kill bacteria and other microbes without altering the nutritional value and benefits of breastmilk.
Next, the bottles are cooled, labeled and placed in freezers before a small sample of the milk is analyzed to assess fats, proteins and lactose. A sample from each batch is sent to the lab to be tested for any bacterial growth.
Then the milk is sent coast to coast to babies in hospitals and homes.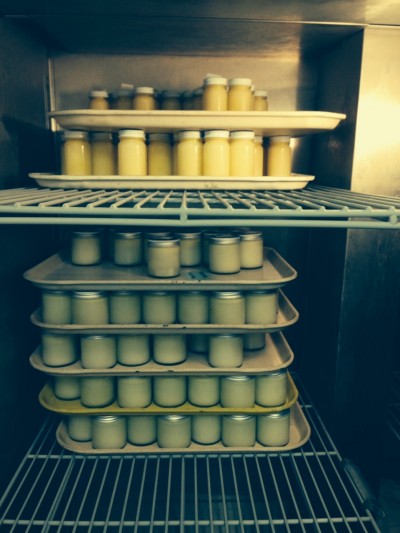 Recipients
Babies in hospital Neonatal Intensive Care Units (NICU) depend on the life-saving properties of women's breastmilk to thrive when their own mother's milk is not available.
Donor milk is used by preemies who cannot tolerate formula, have a weakened immune system, or have special dietary needs. Donor milk reduces digestive tract infections by 79% and many other infections as well. One ounce of your milk can feed a micro preemie for an entire day — literally saving his or her life.
The milk bank has milk that is colostrum, high fat content, low fat content, no fat content and dairy free for individual needs.
A lot of people are afraid to use other women's breastmilk, but I assure you it is safe and held to high standards. We need to change our perspective – Would we rather use a cow's milk than another woman's?
Benefits of Breastmilk
Nutritional
Immunological
Developmental
Social
Economic
Environmental
Decreased risk of a wide range of illnesses and infections beyond infancy
The milk bank shared one particular touching case study with me in which the newborn was sent home on hospice care due to CHARGE Syndrome. His mother was adamant about nourishing him with breastmilk (both hers and some from the milk bank). He miraculously kept living and doing slightly better, so they admitted him back to the hospital to undergo several surgeries and therapies. He received breastmilk the entire time and is now two years old!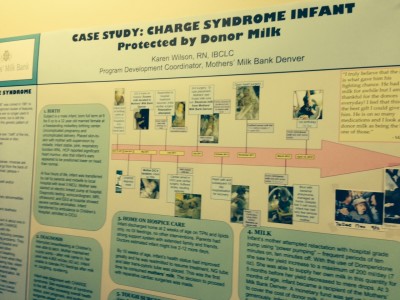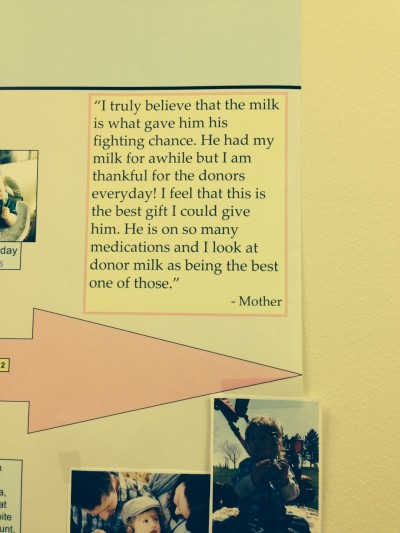 Mothers' Milk Bank Colorado
When I was talking to the lactation consultant in the office, she said her favorite part of her job is seeing how much the donors get out of donating their milk. The recipients get a quantifiable gift from the program, but every day she sees how happy the donors are that they get to provide this precious gift.
If you are interested in more information on donating milk, please contact Laraine Lockhart-Borman at 303-839-7692 or visit their website.
This milk bank provides service far beyond Colorado including Oregon, Missouri, Utah, Florida and Alaska.
They only accept milk for 1 year due to the changes in composition of a woman's breastmilk, so it's a little late for me this time, but I fully intend on doing it with baby#2.
I want to personally thank the Mothers' Milk Bank for sharing their passion with me. It was educational and inspiring!
Please help spread the word about human milk banking.